Overdentures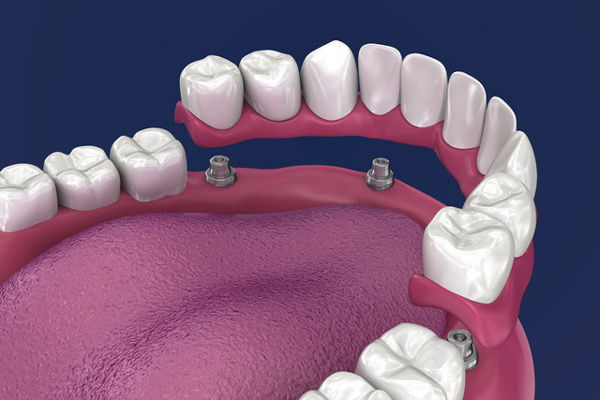 Overdentures are one of the most common dental prosthetics for patients with several missing teeth. Not only do missing teeth affect the aesthetic of your smile, they also make it difficult to chew and consume various food items. Your quality of life is greatly diminished when you lose multiple teeth.

Overdentures are a viable solution for patients with missing teeth. While conventional dentures may not offer the support and stability of natural teeth, overdentures provide the stability needed to function daily. Here at St. Louis Prosthodontics, our team of dentists and prosthodontists will work with you to customize overdentures that can restore beauty and functionality to your mouth.


Why Might You Need Overdentures?

If you are missing complete rows of teeth on the bottom or top half of your mouth, then you likely already know the complications that can arise. Difficulties in chewing make it hard for you to eat properly and may limit your diet to more malleable or liquid foods. This can have severe consequences on your nutritional intake.

Additionally, missing teeth make your gums and jawbone more susceptible to decay. If you are missing more than one tooth, you should quickly take action to prevent further damage. Extensive damage to your mouth may be irreparable and can lead to more expensive and complicated dental procedures.


What Are Overdentures?

Put simply, overdentures are a dental prosthetic device that attaches to implants that are rooted in your jaw. Traditional dentures tend to slide and move while chewing, and they can also be uncomfortable to wear. If your dentures are constantly moving while chewing or your mouth is clenched, the alignment of your jaw can be compromised over time.

Overdentures, on the other hand, are fitted securely to your mouth so that they stay exactly where they need to be. They are removable, so patients can take them out and clean them whenever they find convenient. Overdentures usually consist of just two components: the implants and the prosthetic itself.

It may be advantageous to use overdentures over a complete fixed bridge for two reasons. First, they are often more affordable. Second, they are removable which may be beneficial to the user depending on their oral health. For these reasons, many patients opt to have overdentures customized for them rather than utilizing other prosthetic solutions.


What Is the Procedure for Installing Overdentures?

Before any surgery is performed, a dental specialist will scan your mouth to map the layout of your jaw structure and any remaining teeth. A prosthodontist will use this information to create a 3D model that is both functional and aesthetically natural. Once the prosthetic is complete, minor surgery will take place.

The surgery involves attaching two titanium implants to your jaw. Titanium has special properties that allow it to fuse with bone better than most metals. The implants are then given time to set to make sure they are properly anchored to the jaw.

When the implants are properly set, all that needs to be done is to attach the overdenture prosthetic to the implants. This ensures that the dentures will be secure and will not move around while chewing. With that, the procedure is complete.


Conclusion

If you need several teeth replaced, your best option may be overdentures. Overdentures are superior to traditional dentures and offer the support needed to chew naturally. If you are considering pursuing overdentures, call St. Louis Prosthodontics at 314-937-5487 to set up a consultation. Our team is dedicated to making sure that your mouth stays healthy and beautiful.